Maricopa County
Air Quality Permit Compliance Assistance Seminar: June 25, 2014
The Arizona Environmental Strategic Alliance in Partnership with Maricopa County Air Quality Department will present an Air Quality Permit Compliance Assistance Seminar on Wednesday, June 15th, 2014. Location and details will be available on this website in the upcoming weeks.
Who should attend? If your facility is a Stationary Source located in Maricopa County, Pinal County, or Pima County, or you are a consultant working for a regulated source, this seminar is for YOU! Seminar speakers include regulators and industry professionals with experience applicable to your situation.
A small registration fee will be required to help cover the lunch, facility, and material and other expenses. A light lunch and refreshments will be included.
AGENDA: Morning presentations will include Maricopa County regulators speaking on Permitting, Inspections, and Enforcement Procedures. Afternoon presentations will include industry professionals, including Matt Conway, PING; Greg Bopp, Honeywell. Regulator speaker names and other industry speaker names will be announced as soon as these are confirmed.
Check back soon for more information and to register online for this seminar. Bring all your questions with you!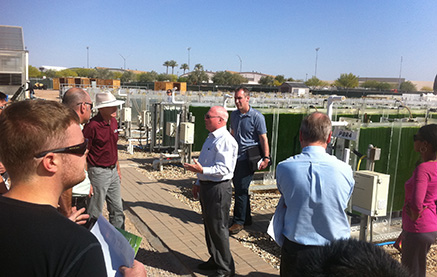 ABOVE: ASU Professor Dr. Milton Sommerfeld (center) speaks to Alliance members and asu students at the ASU Azcati algae research facility
Alliance Environmental Technical Tour of the Arizona Center for Algae Technology and Innovation
Alliance members, guests, and ASU students, toured the Arizona Center for Algae Technology and Innovation(AzCATI) Friday, March 28th. Our host was Dr. Milton Sommerfeld (pictured above). The research facility is a part of the LightWorks initiative, and is embedded within the Polytechnic School at Arizona State University. AzCATI "serves as a national testbed for research, testing, and commercialization of algae-based products such as biofuels, pharmaceuticals, nutraceuticals, and other algae biomass co-products. AzCATI provides open test and evaluation facilities for the algae industry and research community."
Our thanks to Dr. Sommerfeld for an impressive presentation and for providing us with a detailed facility tour. The Alliance also thanks Al Brown, Alliance Advisory Councilor and ASU instructor, for his assistance in facilitating this tour.
Additional PHOTOS of the AzCATI facility and the Alliance tour can be found on the Upcoming & Recent News page. AzCATI has a website at AzCATI.com.
Please explore our new website. You will find it divided into the following main categories:
ABOUT
Who we are
Learn ABOUT the unique Arizona public/private partnership formed to promote and recognize environmental leadership and enhance Arizona's environment. Meet our Member organizations and our Advisory Councilors and Member Representatives.
MEMBERSHIP
Benefits
Learn about the benefits of MEMBERSHIP for Arizona's environment, as well as the benefits to your organization. Membership applicants must meet a high bar of environmental performance, but you may already demonstrate many of the required leadership characteristics.
COMMITTEES
Participate
Participate on an Alliance COMMITTEE or PROJECT. Share in our mentoring, educational, and leadership activities.
NEWS
Current & Past
Read about CURRENT & PAST events and news announcements.