Air Quality Permit Compliance Assistance Seminar Held Recently in Casa Grande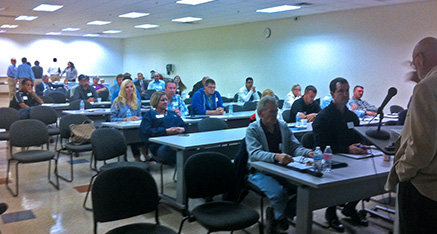 The Arizona Environmental Strategic Alliance in Partnership with Pinal County Air Quality Department presented an Air Quality Permit Compliance Assistance Seminar on Tuesday, January 14th, 2014, at the Central Arizona College Small Business Development Center in Casa Grande, Arizona. The seminar was free to registered attendees, with refreshments and lunch provided courtesy of Mitch Klein and Polsinelli (www.polsinelli.com).
The seminar included "Regulator Presentations" in the morning, followed by "Industry Representative Presentations" in the afternoon. Regulators "left the building" after lunch, to encourage facility representatives to more freely ask for assistance with questions they might otherwise not ask -- with "enforcement" officials sitting in the room.
Regulator Presentations included: PERMITTING, by Kale Walch and Anu Jain, Pinal County; COMPLIANCE INSPECTIONS, by Bob Farrell, Pinal County; and ENFORCEMENT PROCEDURES, by Mike Sundblom, Pinal County. Our Guest Lunch Speaker was Amanda Reeve, of Polsinelli. Industry Representative Presentations included: AQ PERMIT COMPLIANCE EXPERIENCE, PM, by Matt Conway, PING; PRACTICAL STEPS TO IMPLEMENTATION OF AN EMS, by Greg Bopp, Honeywell Aerospace; and HOW TO GET AND KEEP THE ATTENTION OF REGULATORS, by Mitch Klein, Polsinelli (mjklein@polsinelli.com).
Our Seminar Moderator was Dr. Nick Hild, ASU.
View this article and seminar powerpoints in the News Archives:

The Alliance expresses our appreciation to all the seminar speakers and to the attendees for your participation and help in making this a well-attended and valuable seminar!
Please explore our new website. You will find it divided into the following main categories:
ABOUT
Who we are
Learn ABOUT the unique Arizona public/private partnership formed to promote and recognize environmental leadership and enhance Arizona's environment. Meet our Member organizations and our Advisory Councilors and Member Representatives.
MEMBERSHIP
Benefits
Learn about the benefits of MEMBERSHIP for Arizona's environment, as well as the benefits to your organization. Membership applicants must meet a high bar of environmental performance, but you may already demonstrate many of the required leadership characteristics.
COMMITTEES
Participate
Participate on an Alliance COMMITTEE or PROJECT. Share in our mentoring, educational, and leadership activities.
NEWS
Current & Past
Read about CURRENT & PAST events and news announcements.