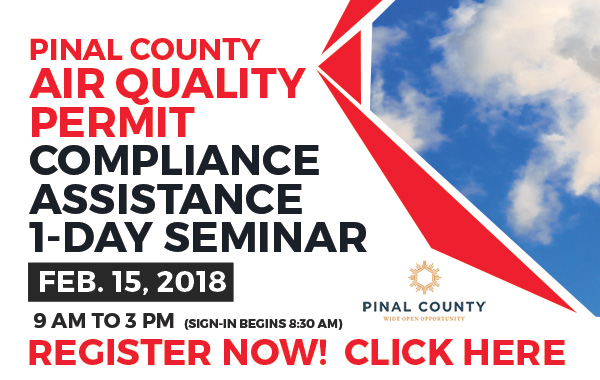 2018 Air Quality Permit Compliance Assistance Seminar / Co-Hosted with Pinal County Air Quality Control Department
The 2018 Pinal County Air Quality Permit Compliance Assistance Seminar will be held on February 15, 2018.. A PDF copy of the new seminar flyer is available below Click on the image above or HERE to go to the registration page.
PDF Flyer -- 2018 Feb 15 AQ Seminar

Alliance Hosts First Stack Test Seminar
On May 25th, the Arizona Environmental Strategic Alliance held our first Stack Testing Seminar at Intel in Chandler, Arizona. Over 61 registered attendees representing 32 organizations participated in the full-day seminar. An additional 15 participated from an out-of-state Intel location through the use of a Skype connection providing audio and PowerPoint access.
Craig McCurry (Intel), Alliance Chair and Seminar Moderator, opened the seminar with introductions and a welcome to guests. Morning sessions included Intel Stack Testing Requirements and Methods of Compliance, FTIR stack test basics and compliance test methods, FTIR detection limits, and FTIR lessons learned. Our lunch speaker was Attorney Mitch Klein (Snell & Wilmer) who spoke on EPA Policy Under the Trump Administration. Afternoon sessions, moderated by Geetha Shankar (Intel), included two panel discussions. The first, an "Industry Expert Panel" focusing on Trends in Compliance, with speakers Brian Benaway, Spectrum Environmental Solutions; Mike Sherer, Trinity; Tim Higgs, CH2M; Curt Laush, Geosyntec Consultants; Robert Sandoval, INTEL; Mark Hajduk, APS. The second panel was "Keys to Successful Compliance Tests, with speakers Scott Treece, Maricopa County AQ Dept; Kale Walch, Pinal County AQCD; Dustin Fitzpatrick, Pima County; and David Kim, ADEQ.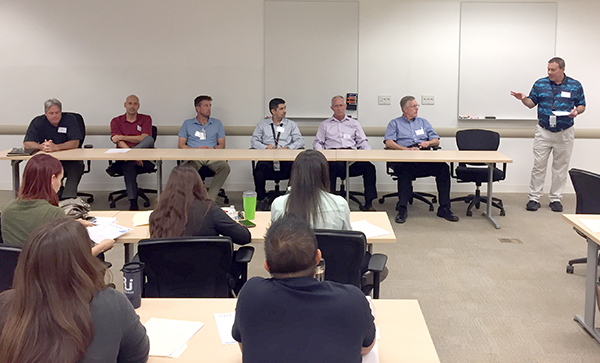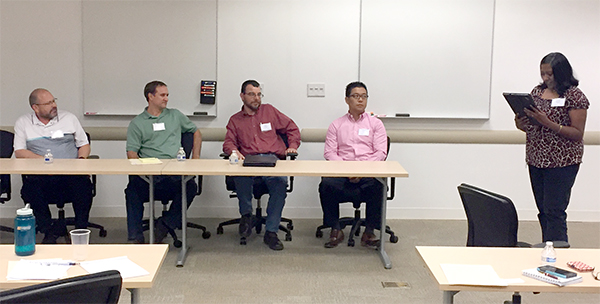 The Alliance extends our appreciation to Intel for its help hosting and providing the facilities for the seminar. We are also grateful to our two guest sponsors for helping make this seminar possible:  Geosyntec Consultants, our Lunch Sponsor; and CH2M, our Break Sponsor.

For more information on this and future seminars, contact the Alliance at 480-422-7392 or email Jim Thrush at jimthrush@cox.net.
PowerPoints for the seminar are available here:
1. Strategic Alliance / Welcome to Intel
2. FTIR 101 and FTIR Compliance-Based Methods
3. FTIR DLs Laush
4. FTIR Lessons Learned Trinity
5. Strengths and Limitations of FTIR Testing
ADEQ Selects First Voluntary Environmental Stewardship Program (VESP) Members

Alliance Members Recognized
Alliance Member, PING Inc., was one of the first six members of the Arizona Voluntary Environmental Stewardship Program (VESP) selected by the Arizona Department of Environmental Quality. VESP provides recognition and incentives for organizations that go above and beyond environmental law requirements

VESP has five levels of recognition -- platinum, gold, silver, bronze, and copper. PING has entered as a Platinum member. Other Alliance Members are currently in the application process. VESP recognition is an achievement that shows committment to the environment and to the Arizona community, and the Alliance offers our congratulations to PING and all the VESP Members. Information on VESP is available on the ADEQ website at this link: http://www.azdeq.gov/vesp.html.
Alliance Leadership Inspires VESP Legislation
Former Arizona State Representative Amanda Reeve, House Environment Committee Chair, frequently points to the discussions of the November 2011 Alliance "Business Leadership and Legislative Forum" as the inspiration for, and substance of, the legislation creating the Voluntary Environmental Stewardship Program.

Alliance Business Leadership & Legislative Forums, and various other seminars, support the Alliance goal of fostering collaboration between regulators and industry, and demonstrating environmental leadership.

Consider participating on the ground floor of environmental leadership in Arizona -- contact the Alliance for information on Membership!
Alliance Archives -- a few selections

"Green Arizona" Video Contest Highlights
"Be Green, Bring Color to AZ" by Devon Wilcox. Awarded an Honorable Mention and $50 Prize in the first Alliance "Green Arizona" contest.
AZ Senate Natural Resources Committee
Alliance Members promote environmental leadership, share knowledge, and are recognized for acheivement.
Record Attendance at the July AQ Permit Compliance Assistance Seminar Maricopa County AQ Dept and the Alliance co-hosted the second annual AQ Permit Compliance Assistance Seminar for 88 registered attendees, representing 55 organizations, on July 14, 2015. Our thanks to the speakers, attendees, and Maricopa County AQ Department for their participation and work that made this a great success! "It's important for us to continue to offer this type of seminar to engage the community through innovative environmental compliance to further the mission of clean air for Maricopa County residents and visitors. The expertise and experience that the Alliance provided during the seminar was truly valued by the Department."–director philip McNeely, Maricopa County Air Quality Director
Alliance Archives Page Enhanced The Alliance Archives include articles, photos, and video records of some of our seminars, activities, presentations, significant documents, and a few of our Environmental Technical Tours. Browse through the collection of Archives in the drop-down menus under the "NEWS / Upcoming & Archives" heading (above on the links bar). Currently the Archives are divided into "2013 to Present" and "Pre-2013".
Alliance Business Leadership and Sustainability Legislative Forum The Alliance hosts forums with industry leaders, environmental regulators, and legislators to foster communication, sharing of ideas, and build towards our common goal to help protect and enhance Arizona's environment. The November 2011 Forum has been credited by Amanda Reeve as "the inspiration for, and substance of, legislation forming the Voluntary Environmental Steweardship Program" –Former AZ State Rep. Amanda Reeve, House Environment Committee Chair
Please explore our new website. You will find it divided into the following main categories:
ABOUT
Who we are
Learn ABOUT the unique Arizona public/private partnership formed to promote and recognize environmental leadership and enhance Arizona's environment. Meet our Member organizations and our Advisory Councilors and Member Representatives.
The "Alliance Profile"
A printable PDF summary and overview of the Alliance can be downloaded here (click on the image).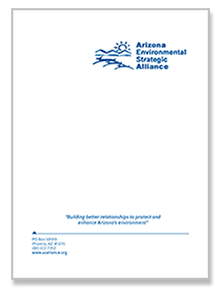 MEMBERSHIP
Benefits
Learn about the benefits of MEMBERSHIP for Arizona's environment, as well as the benefits to your organization. Membership applicants must meet a high bar of environmental performance, but you may already demonstrate many of the required leadership characteristics.
COMMITTEES
Participate
Participate on an Alliance COMMITTEE or PROJECT. Share in our mentoring, educational, and leadership activities.
NEWS
Current & Past
Read about CURRENT & PAST events and news announcements.