The Alliance and Pinal County AQCD Co-Host the Air Quality Permit and Environmental Management Compliance Assistance For Business & Industry Seminar
Pinal County Air Quality Control Department and the Arizona Environmental Strategic Alliance co-hosted the sixth annual one-day Pinal County Air Quality Permit and Environmental Management Compliance Assistance for Business and Industry Seminar on March 26, 2019, at the Holiday Inn, Casa Grande, Arizona. Sixty-three registered attendees representing 41 organizations, including small and larger businesses and organizations from at least 6 counties and 4 states, heard presentations from both county agency and industry air quality and environmental management experts.
This year's presentations included both Air Quality Permit Compliance presentations and Environmental Management Assistance related presentations.
PRESENTATION TITLES with LINKS to PowerPoints (Not all presentations include a PowerPoint):

 "When Your Best Laid Plans Unravel":  Responding to Complications That Arise During Stack Testing, Permitting, etc. and Engaging the Regulatory Body Early and Often (Kale Walch, HEXCEL);

Emissions Bank - Depositing Your Unused Credits (Mike Denby, APS);

Air Permitting - Process and Improvements (Anu Jain, PCAQCD);

Air Inspections - Process & Common Issues (Bob Farrell, PCAQCD);

Pina County Economic Development Updates (Greg Stanley, County Manager, PINAL COUNTY);

Keynote: Arizona Legislative Forecast (Amanda Reeve, SNELL & WILMER);

Voluntary Environmental Stewardship Program (Len Drago, ADEQ);

New Projects: Air Quality Process (Mike Sundblom, Director, PCAQCD);

RCRA Inspections: Preparing for and Responding to a RCRA Inspection (Lauren Blazeck, INTEL);

Dust Permits - Process & Common Issues (Craig Grismore, PCAQCD);

Changes & Trends at the US EPA (Mitch Klein, SNELL & WILMER)

Closing Remarks by Dr. Nick Hild, ASU.   
The Pinal County and Alliance Air Quality seminars continue our series of mentoring and educational environmental compliance seminars. This seminar, and others like it, support several of the primary goals of the Alliance, including protecting Arizona's environment through mentoring and educating Arizona small businesses and providing regulatory compliance assistance. In addition, this and our other Alliance seminars support the Alliance goal of fostering working relationships and communication between environmental regulators and industry.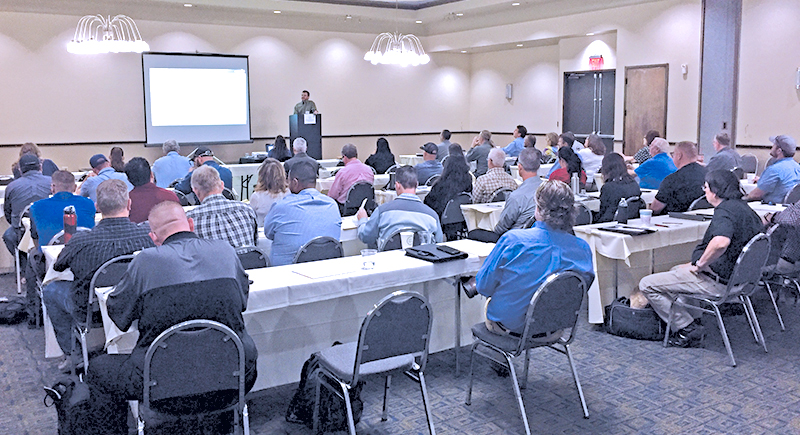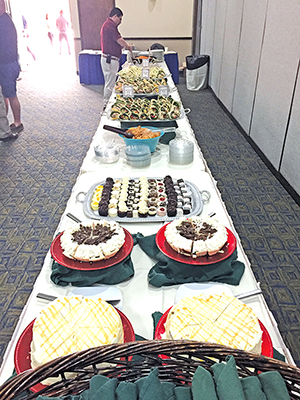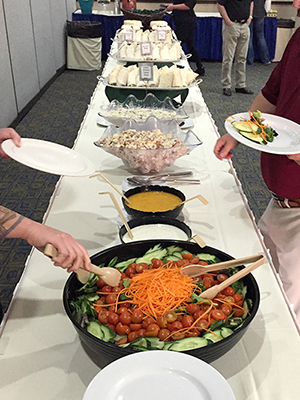 ---
---

Alliance Archives -- a few selections

"Green Arizona" Video Contest Highlights
"Be Green, Bring Color to AZ" by Devon Wilcox. Awarded an Honorable Mention and $50 Prize in the first Alliance "Green Arizona" contest.
AZ Senate Natural Resources Committee
Alliance Members promote environmental leadership, share knowledge, and are recognized for acheivement.
Record Attendance at the July AQ Permit Compliance Assistance Seminar Maricopa County AQ Dept and the Alliance co-hosted the second annual AQ Permit Compliance Assistance Seminar for 88 registered attendees, representing 55 organizations, on July 14, 2015. Our thanks to the speakers, attendees, and Maricopa County AQ Department for their participation and work that made this a great success! "It's important for us to continue to offer this type of seminar to engage the community through innovative environmental compliance to further the mission of clean air for Maricopa County residents and visitors. The expertise and experience that the Alliance provided during the seminar was truly valued by the Department."–director philip McNeely, Maricopa County Air Quality Director
Alliance Archives Page Enhanced The Alliance Archives include articles, photos, and video records of some of our seminars, activities, presentations, significant documents, and a few of our Environmental Technical Tours. Browse through the collection of Archives in the drop-down menus under the "NEWS / Upcoming & Archives" heading (above on the links bar). Currently the Archives are divided into "2013 to Present" and "Pre-2013".
Alliance Business Leadership and Sustainability Legislative Forum The Alliance hosts forums with industry leaders, environmental regulators, and legislators to foster communication, sharing of ideas, and build towards our common goal to help protect and enhance Arizona's environment. The November 2011 Forum has been credited by Amanda Reeve as "the inspiration for, and substance of, legislation forming the Voluntary Environmental Steweardship Program" –Former AZ State Rep. Amanda Reeve, House Environment Committee Chair
Please explore our new website. You will find it divided into the following main categories:
ABOUT
Who we are
Learn ABOUT the unique Arizona public/private partnership formed to promote and recognize environmental leadership and enhance Arizona's environment. Meet our Member organizations and our Advisory Councilors and Member Representatives.
The "Alliance Profile"
A printable PDF summary and overview of the Alliance can be downloaded here (click on the image).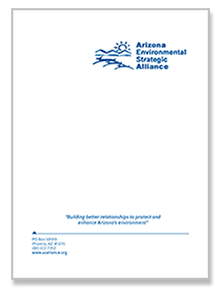 MEMBERSHIP
Benefits
Learn about the benefits of MEMBERSHIP for Arizona's environment, as well as the benefits to your organization. Membership applicants must meet a high bar of environmental performance, but you may already demonstrate many of the required leadership characteristics.
COMMITTEES
Participate
Participate on an Alliance COMMITTEE or PROJECT. Share in our mentoring, educational, and leadership activities.
NEWS
Current & Past
Read about CURRENT & PAST events and news announcements.


NOTE:
PP 02 Kale Walch "When your best laid plans..."
PP 03 Mike Denby, Emissioins Bank
PP 04 Anu Jain, Air Permitting Process and Improvements
PP 05 Bob Farrell, Air Inspections - Process & Common Issues
PP 06 Greg Stanley, Pinal County Economic Development
PP 09 Mike Sundblom, New Projects
PP 10 Lauren Blazeck, Inspections
PP 11 Craig Grismore, Dust Permits