Alliance Member VIP Tour of LROC Lunar Exploration Museum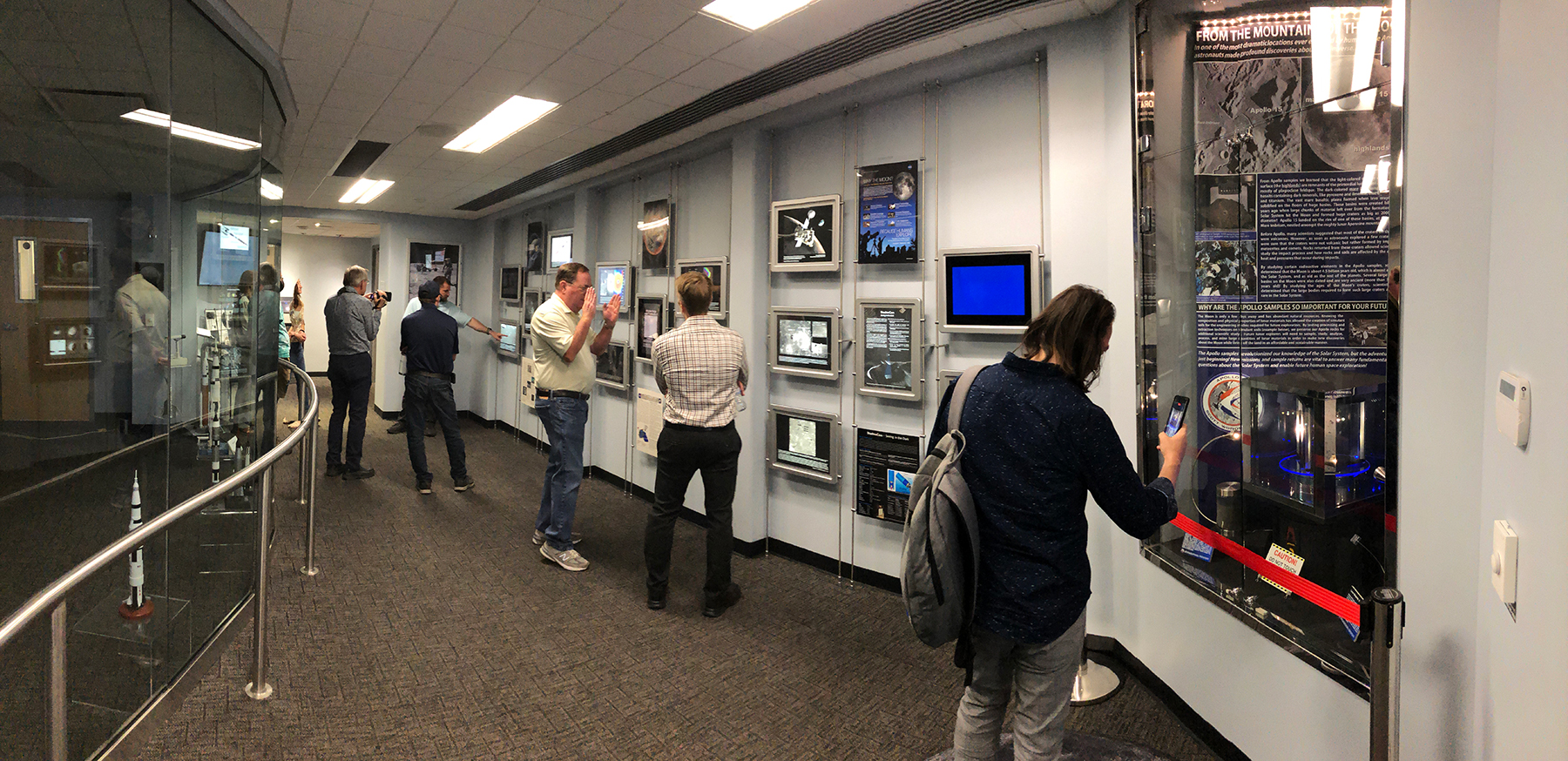 Alliance members and guests were invited to participate in a VIP Tour of the LROC Lunar Exploration Museum at ASU on May 16th, 2022.  The Alliance thanks our tour guides for this opportunity, including Dr. Mark Robinson, Aaron Boyd, Robert Wagner, and Holly Brown. Our thanks also to Al Brown, ASU (and Alliance Advisory Councilor), for coordinating  the tour.
"All members of our tour group learned the importance of the work being done by LROC for gaining knowledge of the history of our solar system. The participants had continuous questions. Everyone was fully engaged for every available minute in a lively discussion." (Al Brown)
See photos below.  Notice the glass case that displays a basalt moon rock (Sample 15555)  which is a piece of a larger rock collected at the Appollo 15 landing site.
Since some members were unable to attend, the Alliance may return to the Lunar Museum at a future date.  If you may be  interested in attending, please send us your email using the "Receive Upcoming Event Notices" link found below on this page.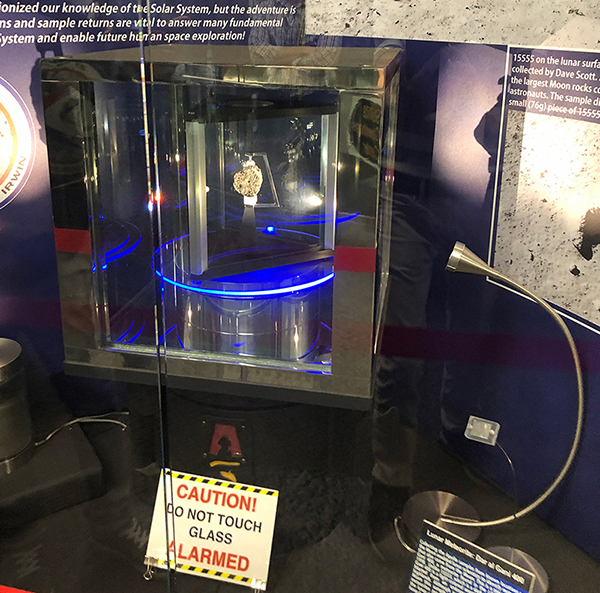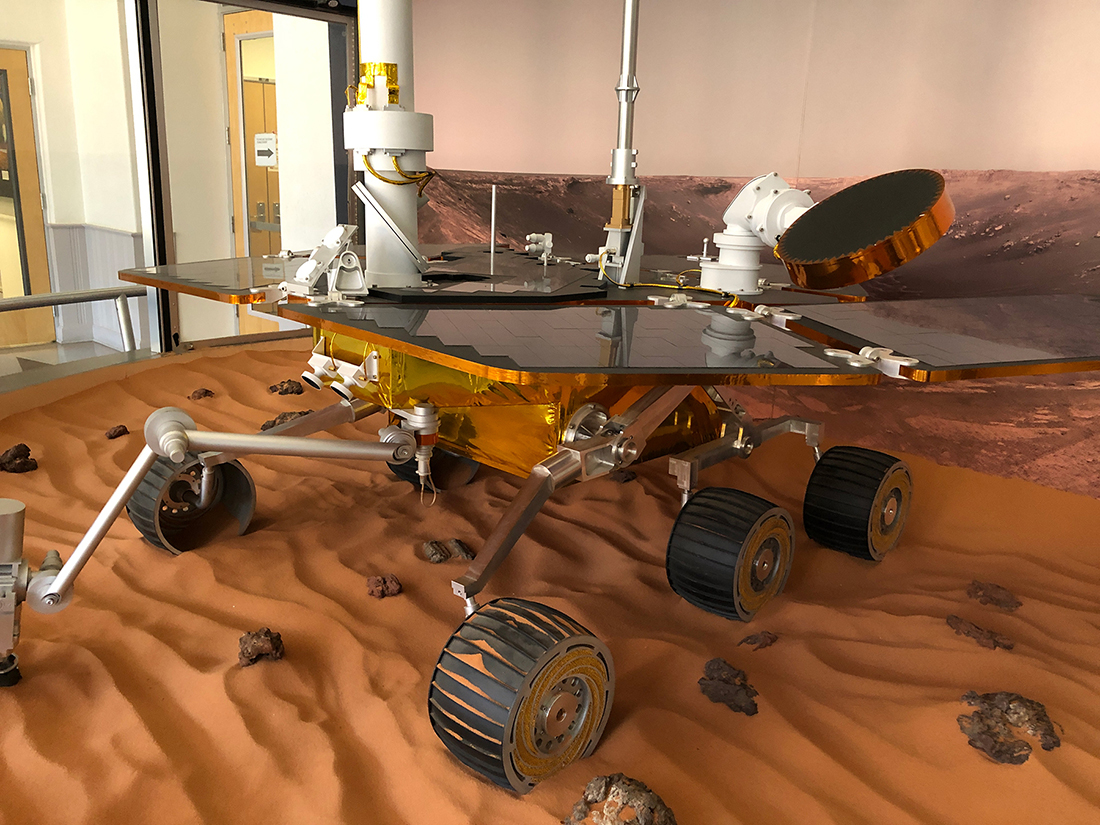 ---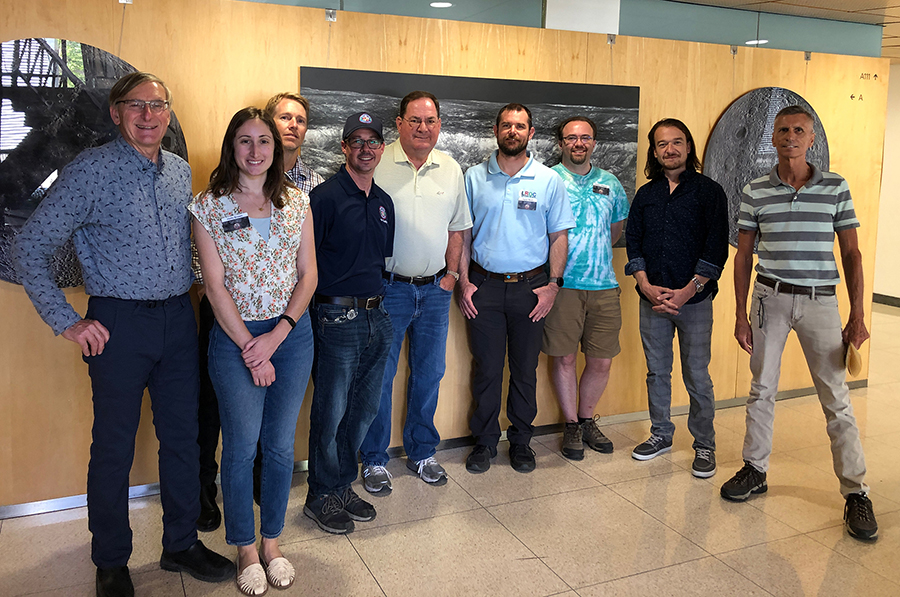 ---
Hexcel Casa Grande Welcomed to Alliance Membership!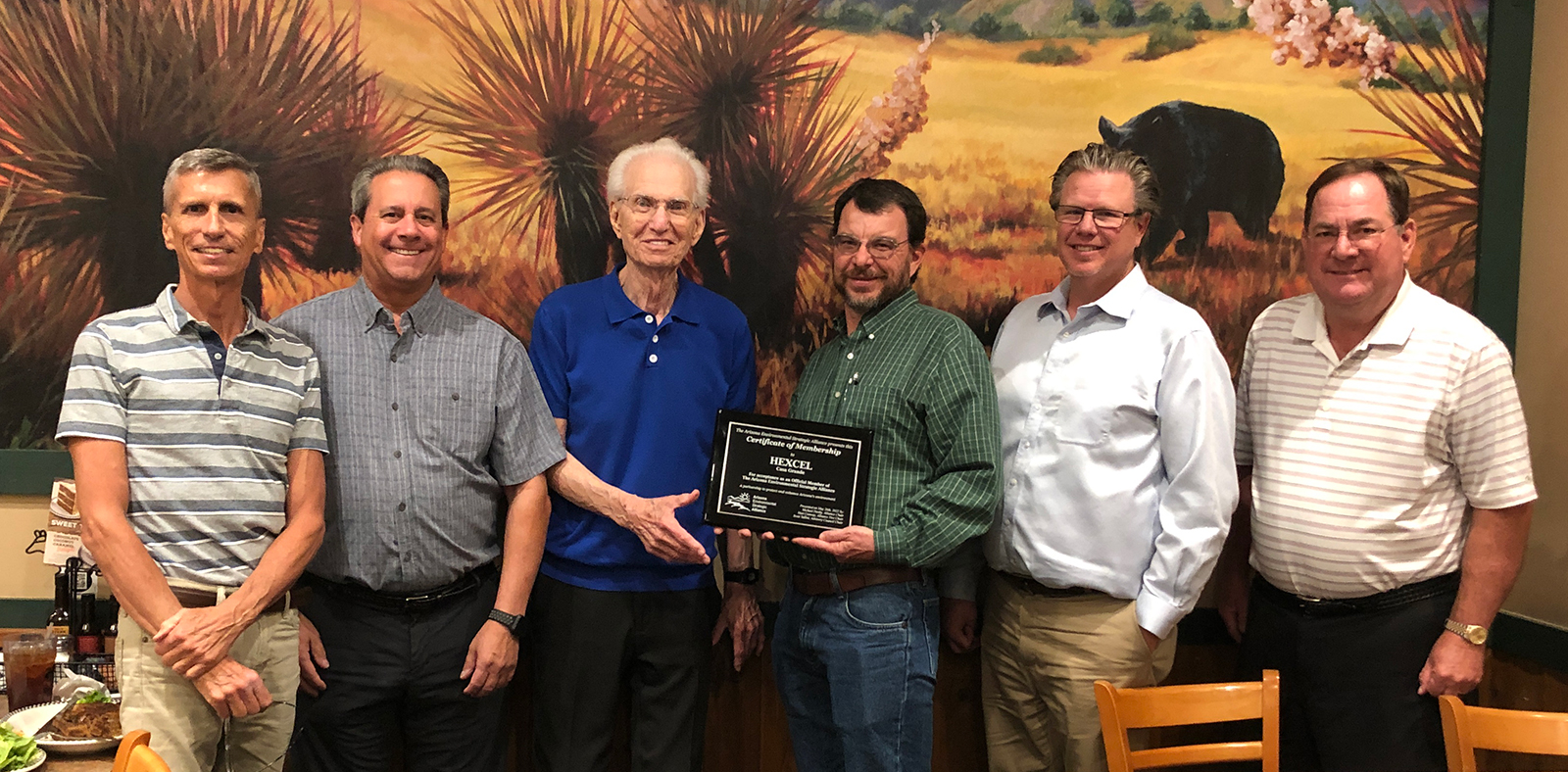 The Arizona Environmental Strategic Alliance is pleased to welcome Hexcel Casa Grande as an official Member of our organization! Hexcel has proven itself to be an environmental leader in Arizona, and we congratulate Hexcel and welcome the opportunity to work together to achieve the goals and objectives of the Alliance.
Hexcel is the world's largest producer of honeycomb material for commercial aircraft structures and interiors, defense aircraft, helicopters, and various industrial applications. Information about Hexcel is available on their website at https://www.hexcel.com/About/Site-Locations/1442/hexcel-casa-grande.
Kale Walch, Environmental Health & Safety Manager at Hexcel Casa Grande, is Hexcel's Delegate (representative) to the Alliance. Kale has served in various positions with the Alliance over the years, including as an Advisory Councilor. Thank you Kale and Hexcel for your continued service & dedication to the environment & Alliance principles!
About Alliance Membership
The Alliance is a unique public/private partnership that demonstrates environmental leadership througout Arizona. Our membership is comprised of manufacturers, corporations, and municipalities, and our Advisory Council includes regulators, academicians, and consultants. Our members maintain a high level of environmetal integrity and performance, and strive to raise the environmental performance bar throughout industry in Arizona.
Alliance Members work toward environmental improvement beyond regulatory mandates, and must demonstrate commitment to environmental quality and support of the Alliance Environmental Principles. Members demonstrate environmental leadership by meeting performance characteristics and substantial compliance with all applicable environmental laws, rules, and regulations. Membership requires an application and a site visit, and is subject to a rigorous review by the Alliance Membership Application Review Committee.
Benefits of Membership
Benefits of Membership include public recognition for outstanding environmental performance, opportunities for improved financial performance through shared pollution prevention solutions,  access to environmental regulators and community members in a neutral setting, and opportunities for mentoring with Arizona's most notable businesses and environmental leaders.  
More information about Alliance Membership requirements & benefits can be found under the "Membership" links on this website.
---

Brief Update: Thank you for your participation at the Alliance 2021 Fall Webinar
The Arizona Environmental Strategic Alliance completed our second online Alliance Fall Webinar, "Environmental Compliance Assistance for Business & Industry" .
About sixty attendees registered, representing at least 39 organizations, including small and larger businesses and organizations, to participate in two presentations on Tuesday morning, November 9th, 2021.
More details to be posted here at a later date.
Thank you to our speakers and all attendees for your participation!
---
To contact the Alliance call our office at 480-422-7392 or email jimthrush@cox.net.
If you would like to receive future notifications about other upcoming Alliance events, please sign up HERE.
RECEIVE Upcoming EVENT NOTIceS

---
About the Arizona Environmental Strategic Alliance
The Arizona Environmental Strategic Alliance is a unique public-private partnership, formed in 1992, to protect and conserve Arizona's environment, encourage innovative environmental actions through leadership, mentoring, and sustainability practices, and showcase the economic benefit of going beyond compliance. Members strive for environmental excellence beyond regulatory mandates. The Alliance facilitates interaction between regulators and business members in a cooperative, non-confratational setting. Browse this website for more information, or call 480-252-8879.
---
Below -- a few selections of interest from the Alliance Archives.

"Green Arizona" Video Contest Highlights
"Be Green, Bring Color to AZ" by Devon Wilcox. Awarded an Honorable Mention and $50 Prize in the first Alliance "Green Arizona" contest.
AZ Senate Natural Resources Committee
Alliance Members promote environmental leadership, share knowledge, and are recognized for acheivement.
Record Attendance at the July AQ Permit Compliance Assistance Seminar Maricopa County AQ Dept and the Alliance co-hosted the second annual AQ Permit Compliance Assistance Seminar for 88 registered attendees, representing 55 organizations, on July 14, 2015. Our thanks to the speakers, attendees, and Maricopa County AQ Department for their participation and work that made this a great success! "It's important for us to continue to offer this type of seminar to engage the community through innovative environmental compliance to further the mission of clean air for Maricopa County residents and visitors. The expertise and experience that the Alliance provided during the seminar was truly valued by the Department."–director philip McNeely, Maricopa County Air Quality Director
Alliance Archives Page Enhanced The Alliance Archives include articles, photos, and video records of some of our seminars, activities, presentations, significant documents, and a few of our Environmental Technical Tours. Browse through the collection of Archives in the drop-down menus under the "NEWS / Upcoming & Archives" heading (above on the links bar). Currently the Archives are divided into "2013 to Present" and "Pre-2013".
Alliance Business Leadership and Sustainability Legislative Forum The Alliance hosts forums with industry leaders, environmental regulators, and legislators to foster communication, sharing of ideas, and build towards our common goal to help protect and enhance Arizona's environment. The November 2011 Forum has been credited by Amanda Reeve as "the inspiration for, and substance of, legislation forming the Voluntary Environmental Steweardship Program" –Former AZ State Rep. Amanda Reeve, House Environment Committee Chair
Please explore our new website. You will find it divided into the following main categories:
ABOUT
Who we are
Learn ABOUT the unique Arizona public/private partnership formed to promote and recognize environmental leadership and enhance Arizona's environment. Meet our Member organizations and our Advisory Councilors and Member Representatives.
The "Alliance Profile"
A printable PDF summary and overview of the Alliance can be downloaded here (click on the image).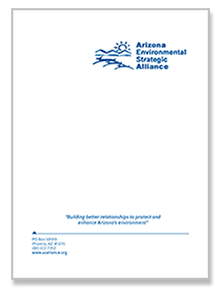 MEMBERSHIP
Benefits
Learn about the benefits of MEMBERSHIP for Arizona's environment, as well as the benefits to your organization. Membership applicants must meet a high bar of environmental performance, but you may already demonstrate many of the required leadership characteristics.
COMMITTEES
Participate
Participate on an Alliance COMMITTEE or PROJECT. Share in our mentoring, educational, and leadership activities.
NEWS
Current & Past
Read about CURRENT & PAST events and news announcements.


NOTE:
PP 02 Kale Walch "When your best laid plans..."
PP 03 Mike Denby, Emissioins Bank
PP 04 Anu Jain, Air Permitting Process and Improvements
PP 05 Bob Farrell, Air Inspections - Process & Common Issues
PP 06 Greg Stanley, Pinal County Economic Development
PP 09 Mike Sundblom, New Projects
PP 10 Lauren Blazeck, Inspections
PP 11 Craig Grismore, Dust Permits