Upcoming and Recent News and Events
UPCOMING AND RECENT NEWS AND EVENTS
To view past news and events archives go to the News Archives.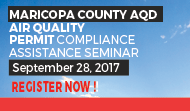 REGISTRATION is now CLOSED. Thank you!
THE SEMINAR REGISTRATION COUNT HAS REACHED OUR SELL-OUT MAXIMUM. THANK YOU!
The Alliance and the Maricopa County Air Quality Department will host the annual Air Quality Permit Compliance Assistance Seminar on September 28, 2017. If your facility has an Air Quality Permit in Maricopa County, or if you are a consultant working with a regulated source in Maricopa County, this seminar is for you! A PDF flyer with our EXPANDED AGENDA and seminar details can be downloaded below (a higher resolution copy of the flyer is also available from the Alliance):
2017 September 28th AQ Seminar PDF FLYER including agenda
REGISTRATION FORM -- CLOSED. Thank you!
(If the form is not visible below, or states "closed", we have reached capacity and are no longer taking new registrations. If you see the form, then we still have a few seats available. Thank you!)
Visit our "About" or "News" pages, or call our office for more information (480-422-7392)

Thank you for your interest!