Upcoming and Recent News and Events
UPCOMING AND RECENT NEWS AND EVENTS
To view past news and events archives go to the News Archives.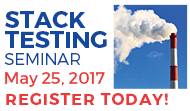 Alliance Stack Testing Seminar - May 25, 2017
The Alliance will hold our first Stack Testing Seminar on Thursday, May 25, 2017. If your facility is required to conduct stack tests, or you are a consultant working with a regulated source, and you want to better understand your testing options or you are looking for ways to improve your emission estimates, this seminar is for you! Speakers include professionals with industry experience applicable to your situation and experienced regulators. A PDF flyer with agenda and details can be found here:
2017 May 25 STack Testing Seminar PDF FLYER including agenda
REGISTRATION FORM (if form is not visible below, contact the Alliance)
Visit our "About" or "News" pages, or call our office for more information (480-422-7392)

Thank you for your interest!